Basilica di Sant'Ambrogio
The Basilica di Sant'Ambrogio was consecrated in 387 by St. Ambrose, who it was named after, and restored in a Lombard Romanesque style in the 11th century.
The Basilica di Sant' Ambrogio was consecrated in 387 by St. Ambrose, and it was later named after this same saint. During the eleventh century, it was reconstructed in a Lombard Romanesque style. It was the first church to adopt this style and consequently, it became the model for this kind of church for years to come.
Things to see
The Basilica's exterior is very original and curious. It has two red brick bell towers, one taller than the other, and an enormous atrium, which is nearly as large as the entire church and contains a few archaeological remains.
The Basilica's interior houses the Stilicho's Sepulchre, a magnificent fourth-century sarcophagus with decorated high reliefs.
The Basilica's crypt contains the remains of three saints: Saint Ambrose, Saint Gervasus and Saint Protasus. They are all dressed head to toe in elegant attire.
At the end of the southern nave is the oratory of San Vittorio, a chapel built before the first basilica. When the site was still a cemetery, a small structure was built in honour of the local martyr Saint Vittorio. During the construction of the Basilica, the structure was added to the temple.
A peculiar temple
Although it was severely damaged during World War II, the Basilica's striking exterior and interior are beautifully preserved. We believe it to be one of the most interesting churches to visit in Milan.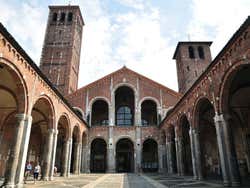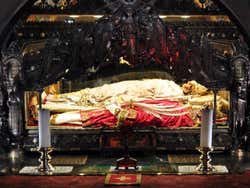 Schedule
Monday to Saturday: from 10 am until 12 pm (noon) and from 2:30 pm until 6 pm.
Sunday: from 3 pm until 5 pm.