The Pinacoteca di Brere di Milano contains one of the leading art collections in Italy, including masterpieces by Raphael and Caravaggio.
History
The Pinacoteca is housed in a palazzo built during the sixteenth and seventeenth centuries. It was formerly a church and monastery built by the Humiliati (Italian religious order) called Santa Maria in Brera. When the Humiliati were banished, the monastery and the new Palazzo Brera were transformed into a Jesuit college and cultural venue with a library and astronomical observatory.
In 1773 the Jesuits were suppressed and the Austrian Archduchess Maria Theresa opened an Accademia di Belle Arti. In 1882 the Pinacoteca became independent from the Accademia and since then its art collection has grown from year to year.
Exhibitions
The paintings are placed in chronological order throughout the gallery's 38 halls and hung together depending on the school they belong to.
The art gallery's masterpieces include Finding of the body of St. Mark by Tintoretto, The Kiss by Francesco Hayez, The Marriage of the Virgin by Raphael, Piero della Francesca's Holy Conversation, and especially the Lamentation of Christ by Andrea Mantegna, a painting which has been studied for centuries by mathematicians, artists, and doctors.
In art taste, nothing is written
Although the Pinacoteca di Brere is considered one of the best art galleries in Milan and Italy, most of the paintings are religious art and for this reason, might not appeal to everyone. In addition, the entrance fee is also too expensive in our opinion.
One of the highlights of the museum is the palazzo's striking courtyard, which is free to visit.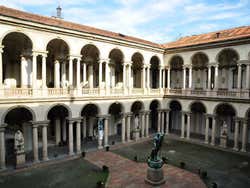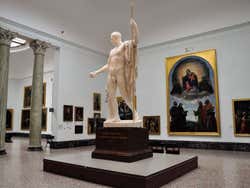 Schedule
Tuesday, Wednesday, Thursday, Friday, Saturday and Sunday: from 8:30 am until 7:15 pm.
Mondays: closed.
Price
Adults: € 15 (US$ 16.20)
Young people (aged 18 – 25): € 10 (US$ 10.80)
Children (aged less than 18): free entry.
First Sunday of the month: free entry.
Teatro alla Scala Guided Tour € 29 (US$ 31.30)
Transport
Metro: Lanza, lines 2; Montenapoleone , line 3.
Tram: lines 1, 4, 8, 12, 14 and 27.
Bus: lines 61 and 97.