The Parco Sempione is a large green-space close to the Castello Sforzesco. It was built between 1890 and 1893 imitating a typical English garden.
Parco Sempione is a vast green space very close to the Castello Sforzesco. The English landscape park was established between 1890 and 1893.
The park has an overall area of over 47 hectares. It has trees, bushes and flowers dispersed among its many vivid green lawns and a pretty artificial lake, which houses numerous kinds of birds.
The park's buildings
The green space is home to hundreds of animals, plants and beautiful buildings. The following buildings are worth visiting:
La Triennale: La Triennale di Milano promotes fine arts and Italian avant-garde architecture.
Acquario Civico Milano: The Civic Aquarium of Milan was constructed for the Expo of 1906. It has 36 tanks with over 100 different species.
Arena Civica: Inaugurated in 1806 in the presence of Napoleon, the Arena Civica is an impressive amphitheatre where concerts and various competitions are currently held.
Arco della Pace: Although the triumphal arch was originally built in 1807 to commemorate Napoleon's victories, when Milan was conquered by the Austrian Empire, the construction was interrupted for a few years and it was completed in 1838 to celebrate the Italian unification. 
Central and enjoyable
Parco Sempione is a large delightful urban park in the centre of Milan with large green spaces where tourists and locals come to rest and relax when it is sunny. In summer, the park does not offer as much shade as one would like, since the trees only provide shade in the landscaped areas.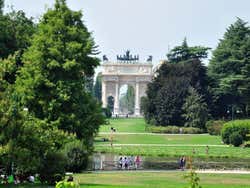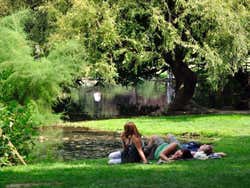 Schedule
Every day: from 6:30 am until 9 pm
Transport
Metro: Cadorna, line M1; Cairoli, line M1; Lanza, line M2.
Tram: lines 1, 2, 4, 12, 14 and 19.
Buses: lines 18, 50, 37, 58, 61 and 94.