The Museo Poldi Pezzoli is an elegant Milanese mansion built at the end of the nineteenth century that houses the former owner's impressive art collection.
The Museo Poldi Pezzoli is an art museum in Milan which was originally created from the private collection of Gian Giacomo Poldi Pezzoli. The museum is housed in Poldi Pezzoli's former residence, an elegant palazzo built at the end of the nineteenth century.
History
The young aristocrat Gian Giacomo Poldi Pezzoli's passion for art led him to increase the family's art collection. When he died in 1879 he left his palace and his works of art to the Brera Academy, and in 1881 the Museo Poldi Pezzoli was inaugurated.
During World War II, the museum was severely damaged and many paintings were completely destroyed. Others survived and those damaged but repairable were restored. The palazzo itself was rebuilt and in 1951 it was reopened to the public.
The exhibitions
The Poldi Pezzoli palazzo offers a beautiful setting for this Italian Renaissance art collection, which is completed by a large variety of decorative elements made of porcelain, sculptures, tapestries and watches.
One of the museum's highlights is the armoury, a magnificent hall with a large variety of weapons and armour. Moreover, visitors should not miss the Golden Room, where the museum's masterpieces are like the: Lamentation over the Dead Christ with Saints by Botticelli and Ritratto di giovane dama by Antonio Pollaiolo.
Definitely worth visiting
The Museo Poldi Pezzoli's art collection is very varied but quite small in size, so the visit is short but very interesting, while the palazzo itself is also worth visiting.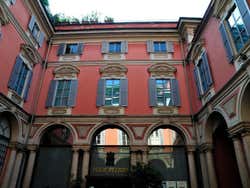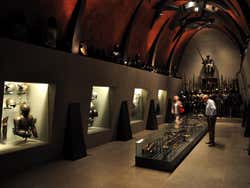 Schedule
Wednesday to Monday: 10 am until 6 pm.
Tuesday: closed
Price
Adults: € 14 (US$ 15.20)
Children (aged 11 to 18): € 6 (US$ 6.50).
Seniors over 65: € 10 (US$ 10.90)
Children (less than 10): free entry.
Transport
Metro: Montenapoleone, line M3.
Tram: Manzoni Croce Rossa, lines 1 and 2.
Buses: lines 61 and 94.