Located in the outskirts of Milan, the Chiaravalle Abbey, a Cistercian monastic complex, is one of the prettiest buildings in the city.
The Chiaravalle Abbey, located in the outskirts of Milan, is part of the Cistercian monastic complex and a very striking structure.
The abbey was built at the beginning of the twelfth century, combining two architectural styles: French Gothic and Lombard Romanesque. In 1221 it was consecrated to the Virgin Mary.  In 1798 Napoleon abolished the Cistercian Order and the monks were forced to leave the abbey, the state of which deteriorated over time. It was restored and returned to the Cistercians in the 1950s and since then the abbey has beautifully cared for.
Things to see
Even though the abbey's interior is hardly decorated as not to distract the monks from their prayers, the temple has beautiful fresco paintings (still preserved to this day). The frescoes contain the history of the Order and family tree.
From the interior of the church, you can access a pretty but very bare cloister from which you can see the two church's towers. The tallest bell tower with numerous windows marked the working hours of the monks and peasants with the ringing of its bells.
A bit far away
Chiaravalle Abbey is a beautiful temple and well worth seeing, but only for those staying in Milan for over a weekend, otherwise, it is too far out to be worthwhile.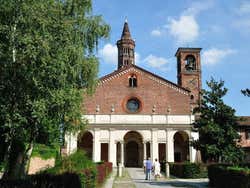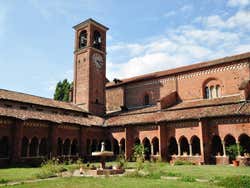 Schedule
Tuesday to Saturday: from 9 am until 12 pm (noon) and from 3 pm until 5 pm
Sunday: from 3 pm until 5 pm.