Milan
Milan is internationally recognised as one of the world's most important fashion capitals, but it also has a lot of interesting museums and things to see and do.
In Introducing Milan you will find all the necessary information to plan your stay in the capital of Lombardy and make the most of your holidays, whether it be for a weekend or for longer.
If you like the guide do not forget to add it to your Favourites.
Tourism in Milan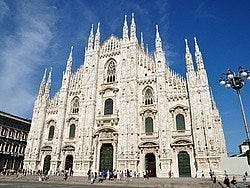 Milan and its symbol, the Cathedral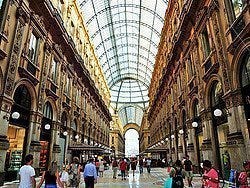 Galleria Vittorio Emanuele II
Milan offers all the advantages of a large city, but it is relatively small, thus making it perfect to visit, as tourists can get to most of the city's attractions and museums by foot.
Some of the city's most beautiful attractions include the Duomo di Milano, an impressive Opera House, a striking castle, ancient churches and a great variety of museums and art galleries.
For those that also want to get away from the hustle and bustle of the city life, you can hire a car or take the train to one of the prettiest landscapes of northern Italy, the Italian lakes. Its green hills and crystal clear lakes makes it a perfect summer destination.
Book your hotel in advance
If you haven't booked your accommodation yet, we suggest visiting our search engine, where you will find all types of hotels, hostels and apartments with the best rates guaranteed. You can get up to a 75% discount and pay once you get to your destination.
The best travel guide of Milan
Introducing Milan has been written by travellers like yourself to help you plan your trip and make the most of your time in Milan and Lombardy. Discover the best places to visit, the typical Milanese dishes and the top places to stay. We also help you save as much money as possible with useful tips and with a list of prices.
The information provided in this guide has been updated in October 2016. If you find a mistake or would like to make a suggestion, please do not hesitate to contact us.
Thinking of visiting other cities in Italy?
If you are planning on exploring Italy, check out our travel guides of Rome, Venice and Florence.