How to get to Milan
Milan is in the north of Italy and is easily accessible both by land and by air. It is Italy's international gateway with three good-sized international airports. These are the easiest and fastest ways to get to Milan depending on where you are departing from:
By plane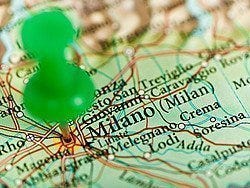 Milan, our next destination
Since the arrival of European low-cost airlines, Milan and Lombardy have become a popular tourist destination in Italy. Very close to the Italian lakes and other remarkable towns and villages, the capital of Lombardy currently has over 36 million passengers arrive or depart from Milan's airports.
Traveling from the U.S.
It is difficult to find non-stop flights from the United States to Milan. Nevertheless, there are many one-stop flights between international airports like Chicago (ORD), Los Angeles (LAX), Boston (BOS), Houston (IAH) and Dallas (DFW). These are not necessarily expensive. If you do not live very close to an international airport, we recommend flying to New York for a connecting flight to Milan. Presently, the only direct flights to Milan are offered by Delta Airlines and Alitalia that fly from New York JFK to Milan (Malpensa Airport). United Airlines also offers non-stop flights from Newark to Milan. All flights from the U.S. fly into Malpensa Airport.​
Traveling from Canada
Currently, there are no direct flights between Canada and Milan. The largest airlines that fly to Milan are the following:
Traveling from Australia
The most frequent flights to Milan from Australia are by Emirates, Singapore Airlines, Etihad Airways and Virgin Australia. These fly from Sydney, Melbourne, Brisbane and Perth. Flights normally take between 23 and 30 hours.  
Traveling from Europe
If you are flying from the United Kingdom, the airlines that fly most frequently to Milan's airports are the following:
Check out our search engine to find cheap flights to Milan. We compare the main companies and offer you the best prices available.
Once you have your ticket and know which airport you land in, find out how to get to Milan's city center from:
Train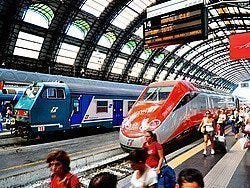 Milan central train station
If you have planned to discover Italy during your stay, the best way to get around the country is by train. If you are traveling from Venice to Milan it takes 2 hours by train. From Rome it takes 3 hours. If you are not in a hurry, there are cheaper trains that take a little longer.
If you would like to check out the routes and tariffs, check out the following websites:
Bus
If you are traveling on a budget, you might prefer to travel around the country by bus instead of by train.