Milano Centrale Railway Station
Milano Centrale Railway Station is one of the largest and most spectacular railway stations in Europe, with a mix of styles including Art Nouveau and Art Decó.
Milano Centrale Railway Station is one of the largest and most impressive train stations in Europe. It is inspired by the Modernism style, an early twentieth-century global movement. The station is a mix of genres, the dominant being Art Nouveau and Art Deco.
History
The railway station was inaugurated in 1931 to replace the old central station, which was no longer large enough to service the increased traffic in Milan.
The project, which had a simpler design in the beginning, took many years to construct. It was later transformed into an impressive structure when Mussolini came to power. He wanted the station to represent the Fascist regime's influence.
The Central Station nowadays
Milano Centrale Railway Station has over 300,000 passengers that arrive or depart from its complex every day, as well as numerous tourists that explore one of the most beautiful railway stations in all of Europe. The train station connects Milan with several of the continent's cities, as well as the country's main cities, which are represented in the remarkable blue tiles on the walls of the building.
The enormous glass and steel domes shelter 24 tracks that take Milanesi and tourists to some of the major European capitals, as well as other Italian cities, which are represented by charming tiles in the station's interior.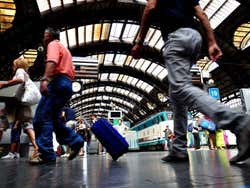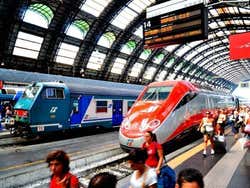 Transport
Metro: Centrale F.S., lines 2 and 3.
Tram: lines 2, 5, 9 and 33.
Buses: lines 42, 60, 82, 90, 91 and 92.