San Maurizio al Monastero Maggiore
San Maurizio al Monastero Maggiore church was designed as part of the Benedictines convent, the most important congregation in Milan.
The church is presently one of the best preserved in the city and the convent houses the Archaeological Museum of Milan.
San Maurizio's interior
The sober exterior of the church hides a magnificent interior. The walls are covered by beautifully well-preserved sixteenth-century frescoes.
Inside you will discover one of its best-kept secrets; the temple is divided into two by a central wall. Milan's citizens would sit near the entrance and the other part was for the nuns.
In the nun's sitting area is an impressive organ dating from 1554, which still works despite its age.
A special temple
San Maurizio al Monastero Maggiore is one of Milan's most unusual and special religious temples thanks to its central partition and the enormous frescoes on the church's walls.
If you have enough time you can visit the rest of the convent's installations which house the Archaeological Museum of Milan.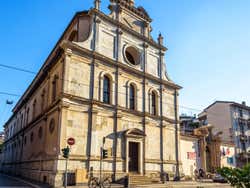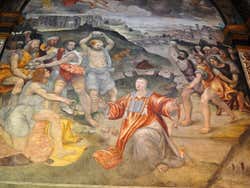 Schedule
Tuesday to Monday: from 9 am until 12 pm and 2 pm until 5 pm.
 
Transport
Metro: Cadorna, line M1; Cairoli, line M1.
Tram: lines 16, 19 and 20.
Buses: lines 50 and 58.